NomoSense is a Nomotech Group company established on the Internet of Things (IoT) market. It is in this connected world that we bring centralized management solutions to communities and building managers. In addition, our services help to optimize human and material resources. We are committed daily to ensuring continuity of service and optimizing the performance of our solutions. Above all, we are committed to developing our services in line with new technologies.
Connect to the world of the Internet of Things (IoT) through a project that fits you.
Maintain and optimize the quality of service
Deploying solutions adapted to each project
Ensure a consistent return on investment
Making digital technologies accessible
Ensure application scalability
Nomotech Group
NomoSense has been part of 

, the telecom industry since 2003. After the creation of the first company, NomoTech, 3 other companies were developed afterwards, including NomoSense. The Group also acquired 2 other companies in 2022.

Nomotech, the parent company, is the number one alternative network operator in France. Specialized in radio since 2003, it puts its know-how at the service of its subsidiaries to support them.

Public Wifi network operator providing packaged solutions adapted to each sector of activity so that Wifi brings much more than an Internet access.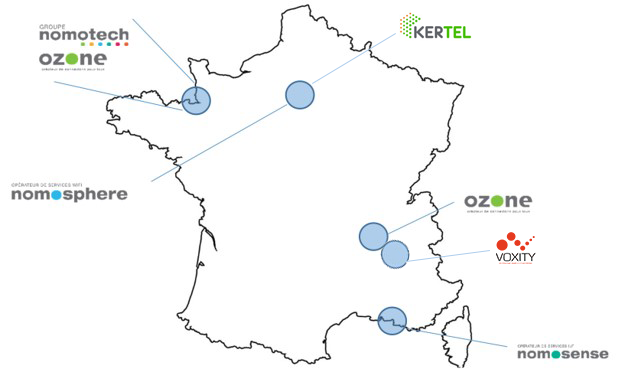 A telecom services company that designs, installs and maintains solutions for the legal, accounting and real estate professions. The company supports them in their digital transformation.